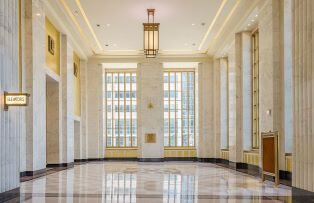 01 Jan

Featured Venue: The Old Post Office

Be the talk of the town when you host your next event at one of the unique spaces inside The Old Post Office! This versatile venue features a space for any occasion including; The Historic Lobby, Marquee Conference Center, Telegram, The Vault, Meadow and The Library. Click here to explore The Old Post Office in greater detail.

Brief History
The Old Chicago Post Office was originally completed in 1921, but underwent a monumental expansion in 1932 to meet Chicago's unprecedented postal needs. The meteoric rise of the mail-order industry, spearheaded by the Chicago-based Montgomery Ward and Sears catalogs, transformed the city into the distribution center of the nation nearly overnight. In its postal heyday, the property was the largest of its kind in the world, capable of shuttling an astonishing 19 million pieces of mail daily. Though a lot has changed here since that time, that same spirit of raw ambition will live on in these walls for years to come.

After sitting vacant for nearly two decades, The Old Post Office has just completed an $800 million renovation, the largest historic redevelopment in the country. Today, the property boasts over 2.5M SF of stunning multi-use office and event space, and is poised to once again become the central hub of Chicago's business community.

The next chapter of The Old Post Office has only begun. As thousands of tenants settle into their new workspaces, plans are underway to bring even more energy to the west side of the Chicago River with a 3.5-acre urban rooftop oasis—the largest of its kind in the city—and a food hall delivering an exciting array of dining options to tenants and visitors alike.