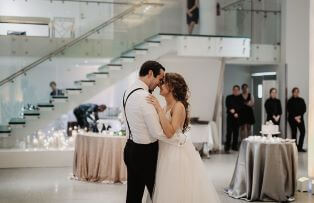 01 Sep

Chez – Chicago's Modern Venue Space

For this exciting blog post, we interviewed Maricar Perea, Venue Director at Chez Wedding Venue for her inside take on what makes her special event space so unique. Follow us for more interesting interviews and venue spotlights!

Tell us what makes your business different from other wedding companies?

Most real estate agents agree – location is everything! At Chez, our location is one of the amenities that really sets us apart. For couples that are looking for the ultimate blank canvas special event space in the heart of Chicago, Chez is the perfect bridal venue. We are located just two blocks from Michigan Avenue and close to the Lakefront, the Loop, River North and the Gold Coast.

What is your best advice for engaged couples?

Chez has been privileged to host so many incredible weddings throughout our illustrious history in Chicago. One piece of advice we like to share with our couples is simple. Enjoy and be in the moment together. Relish the fact that this is your day. We know wedding schedules and timelines can be very tight, however it is important to prioritize a time during the wedding to take it all in privately appreciate the support from your friends, family and guests.

What is something you constantly strive for?

Our goal as a special event venue is to create an experience that is as unique as the couple. We strive to produce the most breathtaking weddings and provide the blank canvas space for couples to truly share their story. We produce all types of designed weddings including modern, rustic, Boho, traditional, elegant and everything in between. Our focus is always on providing a space to share, honor and celebrate love.

Do you do anything that is signature to your brand?

Chez is a stunning Chicago wedding venue that can be transformed for the wedding of your dreams. White brick walls and columns surround a contemporary glass staircase creating a unique wedding venue with the perfect balance of something old and something new for your wedding day. The signature moment at Chez is the awe-inspiring walk down the glass staircase. Couples truly make a statement as the descend down and join their wedding guests.

What three words describe you or your business best?

Modern. Downtown. Customizable.

What is an interesting fact about your business?

Chez has a unique history in Chicago. Our inspired namesake, The ChezParee was a Chicago nightclub known for its glamorous atmosphere, elaborate dance numbers and top entertainers. It operated from 1932 until 1960 in the Streeterville neighborhood of Chicago. The club was the epitome of the golden age of entertainment, and it hosted a wide variety of performers, from singers to comedians to vaudeville acts. The address is now home to Chez, our lovely contemporary event space named in homage to the original Chez Paree.